Systems and structures for the wine sector
VICTORIA has been present for years in the wine sector, designing and manufacturing access and connecting walkways to tanks, parapets, spiral staircases with protection or access to steps, washing systems for sanitation and various other stainless steel structures that guarantee maximum efficiency and safety in the workplace during all stages of the winemaking process.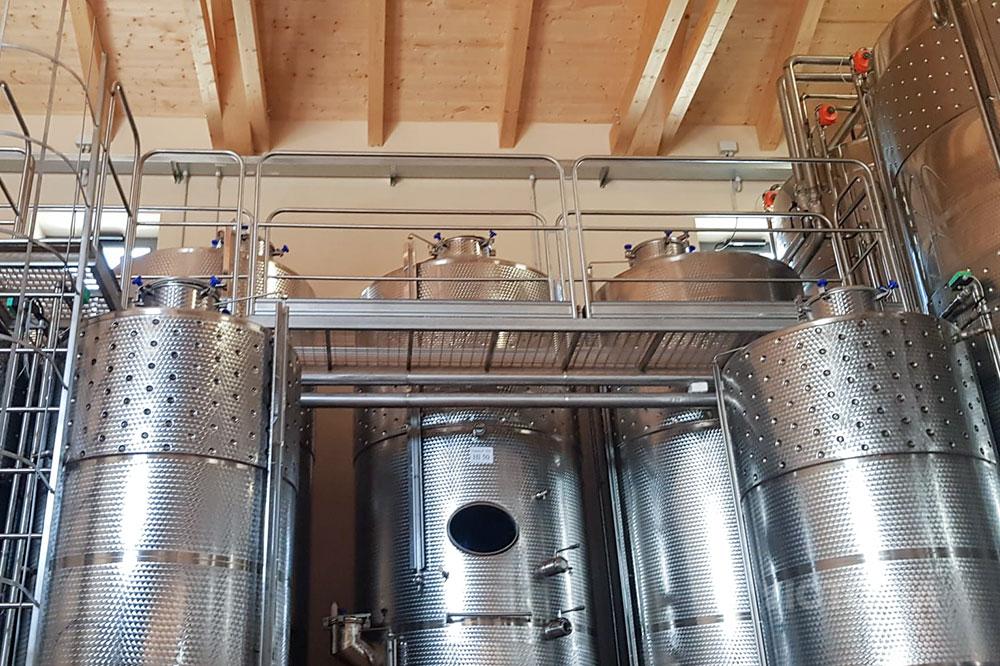 All the advantages of stainless steel
We prefer the use of stainless steel in these processes as it has multiple qualities and characteristics suitable for the wine sector.
First of all, stainless steel is extremely long-lasting because it is resistant to corrosion, relatively elastic and able to keep its shape unchanged for years.
Due to its moldability and workability, stainless steel offers the possibility of tailor-made solutions to meet the needs of any customer.
In addition, stainless steel is a hygienic, sustainable and environmentally friendly material, whose care and maintenance is simple and quick when suitable products are used.
Rapid installation and guaranteed safety standards
In addition to the construction of stainless steel structures, VICTORIA also takes care of installation using a qualified team, which after having studied the area in which the new structure will be inserted to make the most of the space, guarantees a rapid installation able to satisfy the specific needs of the customer.
Today, more than ever, safety is of fundamental importance in all workplaces: for this reason it is essential to adapt the winery to the regulations in force through the arrangement of stairs and walkways in accordance with the law which, in addition to guaranteeing the safety of operators, simplify and speed up the various work processes.
Through the technological know-how acquired over the years, VICTORIA has carried out important installations that have made it possible to optimize work within the wine sector, raising production standards and ensuring safety in the workplace.
Go to carpentry